When mobile phones first appeared, we only could talk and send text messages. Now, the internet mobile arrived and everything changed forever: mobile phones have become an extension of ourselves and, consequently, of our businesses.
Across emerging markets, the increase of smartphone use has become the first way to access the Internet, and this makes the demand for data bundles growing incredibly fast.
In these countries, many people are still unbanked or the access to a bank account is still a difficult task, which makes smartphones the easiest way to receive money transfers. Besides this, we have the fact that social media networks have experienced a boom, and Instagram, TikTok or WhatsApp usage is more and more widespread. In order to stay connected to these social platforms, mobile data bundles are required.
Smartphones continue to be the more common devices to connect to the Internet, and they are generating the biggest data traffic today. According to an Ericsson report, about 97% of the global internet population use a mobile phone to go online.
On top of this, mobile technologies are today more affordable and available than ever before. In 2020, there were 4.28 billion unique mobile internet users, and this upward trend is even more visible in developing digital markets such as Asia and Africa.
What are data bundles?
Before we learn how data bundles can help to increase a business's revenue, let's understand the main concept. Data bundles are basically packages for internet access through a mobile device with a limit of bytes. Bundles are priced, which means that for example, 1GB of data is sold at a specific price.
The data bundles values change depending on the end-users payment: the more the users pay, the more bytes they get.
What are data bundle APIs?
Data Bundle APIs enable the bulk sending and recharge of data bundle packages and are really useful for enabling global top-ups of a variety of operators for 5.22 billion prepaid mobile phones.
An ideal data bundles API will enable the easy and fast sending of data bundle packages through different operators with one single endpoint, taking the complexity out of integrating with global telcos.
Why use a data bundle API?
The demand for data bundle packages is more than evident at the moment. Allowing your customers or users to send, top-up or be rewarded with data bundles. Furthermore, the nature of data bundles is temporary, which means that it will always be a good product to offer to keep user engagement and retention high.
As society has become increasingly reliant on being connected and due to the consolidation of the digital model since the COVID-19 pandemic, the average traffic per smartphone has grown up to18.4GB per month in 2021, from 16.1GB per month in 2020.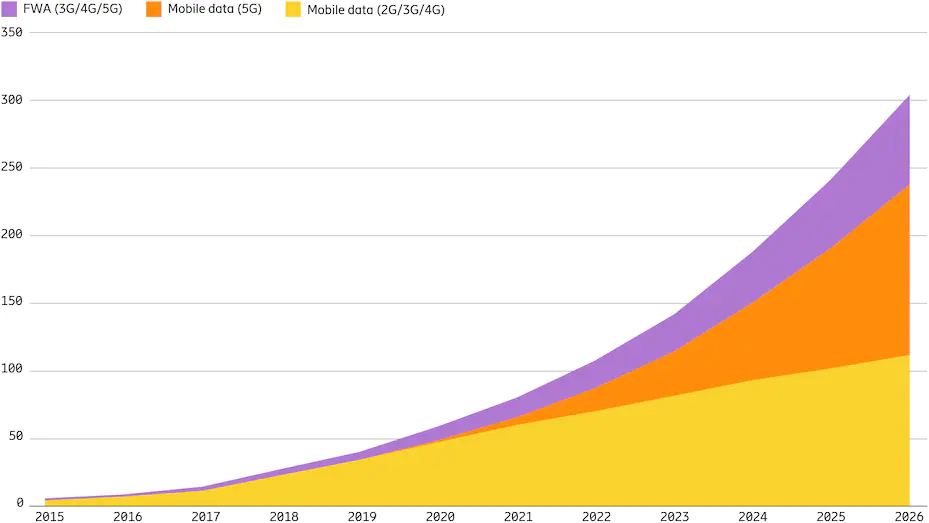 Globally, the non-stop growth in mobile data use per phone can be attributed to three reasons: the improvement of devices, an increase of data consumption due to new networks, and data-intensive content.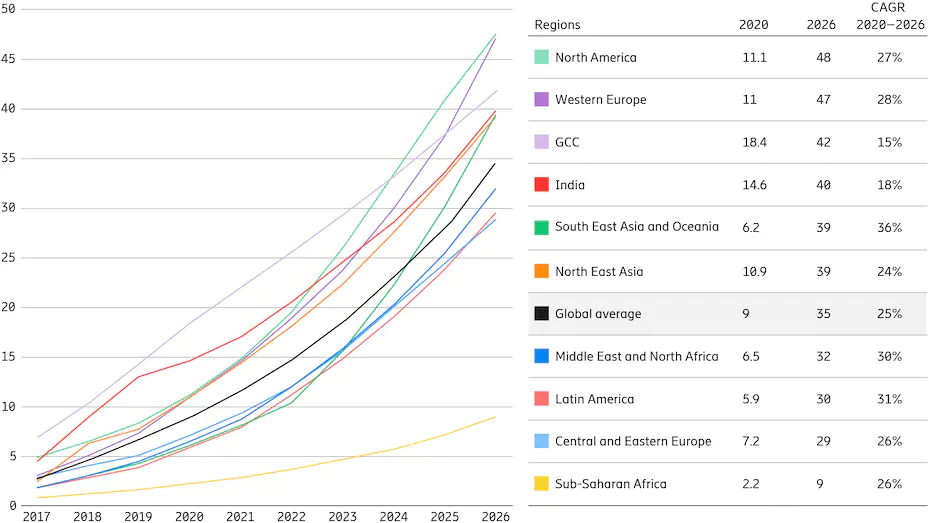 New technology has enabled companies to build better, faster, and easier mobile transfer solutions with more flexibility. Together, mobile phones and advanced API technology have coincided in a moment for the cross-border remittances industry.
There is no doubt that offering data bundle packages via API on smartphones around the world can play a key role in top remittance recipient countries such as China, India, Nigeria, Mexico, and Egypt, among many others. The current remittance services in most of these countries are still poorly served, which makes data bundles APIs a great service to differentiate by innovation and technology.
Business applications of data bundle packages
Data bundles packages are versatile products able to fit in many different business strategies. As the data bundles demand is evident in emerging regions, allowing your customers to send data bundles to loved ones is just the beginning of the list of the strategies you can start implementing today with a data bundles API:
Mobile Games Studios. Those users who play mobile video games on prepaid plans will be grateful to get mobile data packages as a reward, and this in turn will be part of a great loyalty strategy.
Social Media. Offering data bundles rewards to users who live in countries dominated by prepaid plans is a good system to engage with them through. Distributing mobile rewards will offer a much greater reach than cash payouts. Discover here how a social media platform increased its revenue through mobile rewards.
Crypto & Fintech. More and more cryptocurrency exchanges are including the service of airtime and data bundles top-ups for their users, as an added value to the features they already offer. Discover here the story of Crypto2Mobile, and how they integrated an airtime API to provide promotions and engage their users more than their competitors do.
HR Platforms & Departments. For Human Resources, rewarding employees is a key factor to increase productivity levels and show the company values. For those employees who are working from countries where prepaid plans dominate, or for those who are traveling and need a prepaid SIM card, offering them data bundles packages via API is the perfect solution.
Digital Research Firms. To collect data from hard-to-reach places can be a difficult mission. To boost responses targeting remote parts, many companies are already offering survey data bundles packages or airtime as incentives. Discover here how to increase participation with rewards.
NGOs. Also applicable to NGOs, collecting data for humanitarian purposes in remote locations works much better if a data bundles incentive is offered to participants. Learn here how Reloadly helped a humanitarian cause through rewards.
Travel agencies. With different types of data bundle packages, tourists can have access to mobile services for their whole stay in a foreign country at a competitive price.
In conclusion: the opportunity of enabling data bundle top-ups in your business
Similar to offering mobile airtime, data bundles are purchased by the sender to the recipient in a faster, easy and intuitive way. Bundles can be effective as a customer retention or acquisition strategy, opening up lots of different applications to a variety of use cases.
Reloadly offers the world's first developer-centric cloud platform dedicated to transferring airtime and data bundle top-ups, enabling a simple solution to complex coding that allows any business to set up an API or widget to broaden remittance solutions.
The convenience and practicality of data bundle packages make them a top service to cover the growing demand of internet mobile across emerging regions.