Rafal Markiewicz makes it clear where he stands: "The future of payments," he beams, "is cryptocurrency."
Yet, cryptocurrency remains a notoriously illiquid payments pipeline. This is such a pressing challenge that building solutions around liquidity roadblocks has today become a defining objective of the cryptocurrency industry. 
And, as Markiewicz has discovered, exchanging crypto in the global mobile top-up market can open up a path around this roadblock.
In effect, the worldwide top-up marketplace has become a highly liquid gateway for exchanging cryptocurrency for any ISO-4217 global currency. 
Markiewicz founded Crypto2Mobile.com with the aim to enable more liquid bulk crypto exchange options as a B2B provider for cryptocurrency companies and startups. 
Today, that ambition has expanded. Crypto2Mobile.com will soon be enabling end-user crypto holders the ability to directly tap the global mobile top-up market for cryptocurrency exchanges.
But before even thinking about launching this a B2B2C marketing plan, Markiewicz had to ensure that the top-up API his platform integrated with was dependable enough to offer mass-market exposure. 
This is when he realized his current airtime API provider wasn't cutting it. Crypto2Mobile was experiencing several problems with the API and service. 
Markiewicz enumerates: 
"Really big technical issues with the interface"

"Slow reaction time to eliminate errors"

"Small choice of top-ups"

"No discounts" to create promotional pipelines (more on that below)
"Lesson learned," Markiewicz reflects. "We should secure our suppliers as much as possible. That is when we found Reloadly."
After integrating Reloadly's airtime and mobile top-up API, Crypto2Mobile was able to solve these serious pain points. These barriers were identified as the bare minimum needed to overcome before moving forward with the new marketing plan. 
From onboarding to top-up transactions, Reloadly was quickly able to provide a better interface, rapid reaction service times, and never-before-seen top-up discounts.  
"The Reloadly integration project went really smoothly," says Markiewicz.
"Now our end users have a smooth process and a wider choice of top-ups, with faster transaction process times and almost no errors. Reloadly remains the number one supplier for us."
Then, an important revelation occurred. The idea would enable Crypto2Mobile to provide promotions in a way that no other airtime API could offer, and Reloadly would help them make it possible
[Are you also looking for a new mobile top-up API provider? Download our free API key and get started within minutes.] 
A novel promotional pipeline for crypto to mobile top-up exchange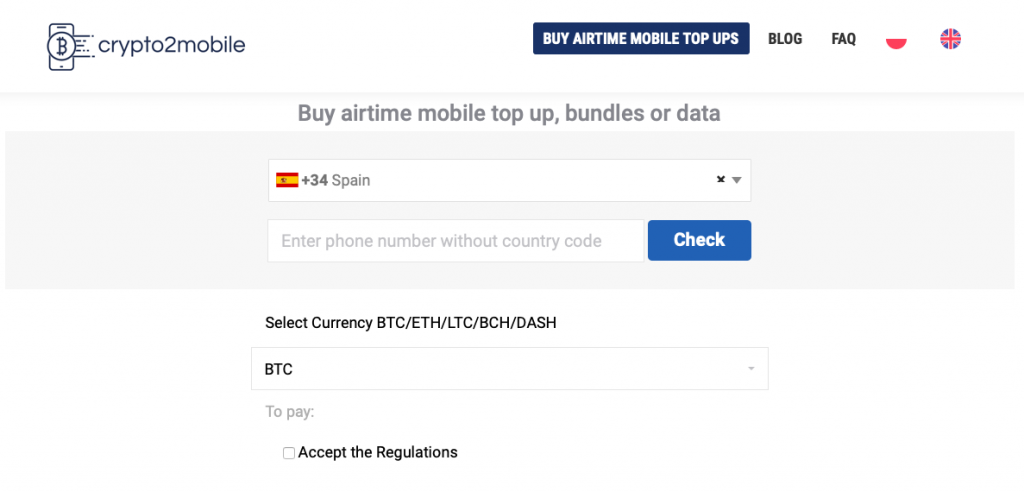 Crypto2Mobile's business enables bulk cryptocurrency exchange solutions for mobile top-ups. The platform effectively opens a pathway for companies to purchase bulk airtime and mobile recharges, data bundles and vouchers using Bitcoin (BTC), Ethereum (ETH), Bitcoin Cash (BCH), Litecoin (LTC) and DASH cryptocurrencies. 
With Markiewicz's previous airtime API provider, buying these bulk mobile and airtime products — the heart and sole of his business — did not trigger any benefits. 
With Reloadly, bulk transactions for mobile and airtime products can accumulate large discounts, which no other airtime API currently offers. 
In general, when buying airtime top-ups in bulk with cryptocurrency, discounts and commissions provided by Reloadly can range anywhere from 6% to 15% of profits. 
To beat out competition, Markiewicz says he needed at least a 5% discount.
Mission accomplished. 
"

The new release of our service will include promotions. This is something no other airtime API to our knowledge is offering, only Reloadly." — 

Rafal Markiewicz, Founder of Crypto2Mobile.com 
This got Markiewicz thinking, and soon his team was diving into planning an entirely new promotional pipeline, built completely around the discounts accrued by executing Reloadly top-up transactions with cryptocurrency. It was a major shift in the business' marketing model. 
"We didn't offer promotions before. We are now introducing them. We see how we can benefit from better offers to our customers. The new release of our service will include promotions. This is something no other airtime API to our knowledge is offering, only Reloadly," says Markiewicz.
What's more, Reloadly's discounts include all of the digital currencies accepted through Crypto2Mobile, and more. 
Building promotions with SEO and social media tactics 
With the promotional capability integrated, Crypto2Mobile then set out to define their promotional campaign pipeline. This would include a formula that mixes SEO/SEM keyword positioning strategies, as well as "guerilla marketing" on social media. 
"The first activity is based on blogs, and the second of our publications on social media and partners pages," says Markiewicz. The company was already ranking well for top keywords, but Markiewicz then organized his target keywords into three categories to better hone the focus. 
Top-up industry words:

top-up,

recharge, buy airtime, etc. 

Mobile operator:

The name of a particular mobile, fixed, or data operator or content services provider

Cryptocurrencies:

This includes the particular names of coins and their abbreviations
Ultimately, Markiewicz endeavors to follow best practices for SEO positioning by capturing a top 3 position for each keyword listed within these categories. 
Besides this SEO strategy, Crypto2Mobile also heavily leverages the social media accounts of mobile operators to generate traffic and disseminate their core messaging. 
"We will continue to hook onto the Instagram, Twitter and other social media accounts of mobile operators. We choose operators on our target list by analyzing page traffic and previous purchases," Markiewicz says.  
Today, work is underway to improve this pipeline by launching a Crypto2Mobile mobile app. 
Markiewicz is now busying himself with the development of this app, as well as an upgrade to the customer interface in hopes to further optimize the customer journey. Once that is done, a pricing manager will be hired in 2021 to better cater to customer sales inquiries, essentially adding a dedicated human face into the hitherto purely technical pipeline. 
"The more massive [promotional] activities will really start in 2021," he beams. 
Opening up the B2B2C crypto market
With the promotional pipeline established, Crypto2Mobile was ready to readjust their target market to include not only big crypto firms and startups, but now their end-users — the individual crypto holders.
Here, enabling the exchange of crypto for mobile top-ups would solve one of the industry's biggest headaches — the liquidity roadblock. It also played well with the central mission of Markiewicz's business. 
"We are increasing the liquidity and usability of cryptocurrency," says Markiewicz. "Our next step is to open the Reloadly API interface to cryptocurrency wallet holders. We will offer Reloadly's services in a B2B2C, enabling global mobile top-ups to be bought with any cryptocurrency." 
"Mobile top-ups make cryptocurrencies more fluid and closer to people."
For certain, the global mobile top-up market will usher greater cryptocurrency adoption.
However, the launch of digital coins by major global companies and even sovereign nations will also propel the acceptance of cryptocurrency as a preferred payments pipeline, and not just only a pathway to shake up liquidity. 
This is Markiewicz's long-term vision. 
The future of crypto for mobile top-up exchanges
"The future of payments is cryptocurrency."
This statement is a bold proclamation that sets the tone for what many crypto enthusiasts, evangelist and Satoshi Nakamoto followers all are betting on: Crypto becoming more liquid. 
But it will take time. 
"We still don't know what the future will bring, but we can expect pretty soon a cryptocurrency based on the Chinese yuan, plus the new project from Facebook, Lybra. Also, Chinese giants like Alibaba are observing this market, as well as others like Google and Uber," he observes. 
Within the crypto industry, there is continued hype for the "grand take over" — the day when digital currencies on the blockchain will replace central banks in the capital. 
That is still nowhere in sight, but, as the existence of Crypto2Mobile proves, it's important to keep an eye on the horizon. Integrating cryptocurrencies with the right API solutions can be a game-changer. 
"We don't expect all this crypto money will grow in the next year, but for sure in the next three to five years," says Markiewicz. "I ran marathons, triathlons, and I know how to plan resources properly to reach my destination."
Markiewicz is no stranger to such long-term ventures. A successful entrepreneur working in fintech for 15 years, he got his big break as a consultant with Arthur Andersen before moving into finance and telecom. He created Inpost Finance, which was sold with a valuation of €8 million. 
The cryptocurrency industry will once again test his perseverance. Ultimately, to help win this race, Markiewicz has chosen to partner with Reloadly.