By the end of summer 2021, Reloadly & Flutterwave teams decided to organize a hackathon together. The objective? The two companies wanted to engage professionals to build amazing projects using Reloadly & Flutterwave APIs. Organizing the Hackathon required a lot of meetings between different teams, but we really wanted to make sure that the event was going to be great for all participants and us.
In this article, we will explain to you how the organizational process of a hackathon was in collaboration with Flutterwave, the projects, the judging criteria, and the winners.
Why a hackathon?
Flutterwave, besides being a unicorn, is an African payments company that helps businesses build customizable payments applications through APIs. With this event, both Flutterwave and Reloadly wanted to achieve these goals:
We wanted to prove that it was possible that people from different countries could collaborate together and build amazing projects remotely.
We wanted to see how each team applied the creativity to build products using Reloadly & Flutterwave APIs.
We wanted to engage the participants to build projects in favor of Africa's growth.
How did we organize it?
When we opened the submissions stage in August, the hackathon was very well received. We announced it through a hackathon website (where those interested could find more information about the event), and the applicants were able to register on Eventbrite.
Amazingly, 600 people applied to participate in this hackathon, and only 100 people were going to be chosen to be the final participants. By the beginning of September, we closed applications for the hackathon and started with the selection process. It was both exciting and tricky because there was a huge amount of professionals who applied.
After a time of deliberation, the judging team from Reloadly & Flutterwave integrated by diverse top professionals from different roles chose the final 100 participants from five different countries, as the regional focus of this hackathon was Nigeria, Ghana, Kenya, Uganda, and Rwanda.
Once selected, the participants had to sign up for accounts on both Flutterwave and Reloadly in order to obtain API keys and credentials which would be used for the hackathon.
For intra-team communication, participants joined a Slack channel which was created for the sole purpose of this hackathon.
On September 6th and after the official announcement of the selected teams, the hackathon got started.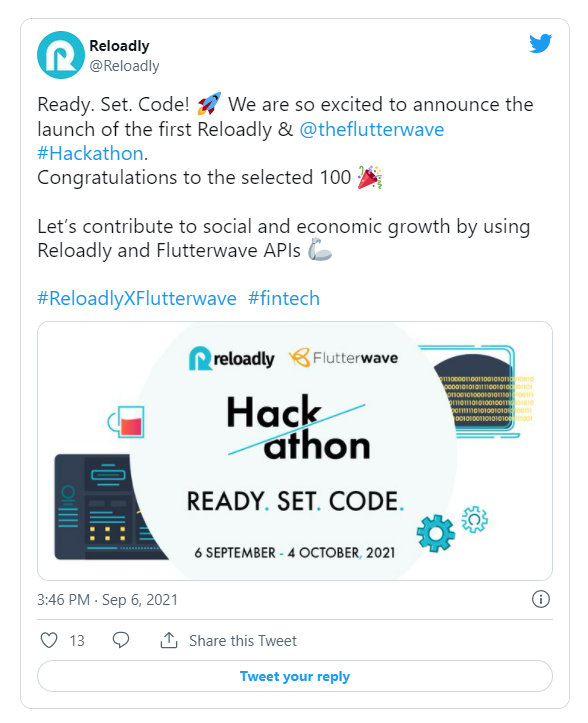 The roles
In order to build projects together, one of the requirements to participate in the hackathon was to perform one of the following roles:
Software Developer/Engineer
Product Designer
Product Manager/Architect
We announce to the applicants that the ideal team would consist of a front-end engineer, a backend engineer, a product designer, and a product manager. We split the 100 participants into 25 teams consisting of 4 members each.
The prizes
The raison d'être of this project has always been to meet new talents who inspire us with their ideas. As every effort has to be rewarded, these were the prizes we announce for the hackathon:
Winning team:
$800 cash per participant
Reloadly Gift Cards worth $100 per participant
Flutterwave virtual cards worth $100 per participant
First runner-up:
$600 cash per participant
Reloadly Gift Cards worth $75 per participant
Flutterwave virtual cards worth $75 per participant
Second runner-up:
$400 cash per participant
Reloadly Gift Cards worth $50 per participant
Flutterwave virtual cards worth $50 per participant
Consolation Prizes:
Reloadly Airtime vouchers of $20 per participant and Flutterwave virtual cards of $20 per participant
The challenge
The 100 participants had to use a month to build and document a project that meets the following use cases:
Should contribute to social or economic growth
Should use Flutterwave API
Should use Reloadly's API
Although other APIs could be used in the building process, the use of Reloadly & Flutterwave APIs was mandatory
Judgment criteria and process
Judges were assigned to either Flutterwave and Reloadly. The judges comprised a front-end engineer, a back-end engineer, a product designer, and a product manager. They used specific criteria for every field.
Participants' work was assessed individually after which the judges unanimously decided on the date to round up the hackathon by sharing the result through a hosted webinar with the participants.
Regarding general criteria, the judges followed these details:
Rationale for creating the solution
How well does this solution address social issues?
How feasible is the solution?
How well does the solution leverage Reloadly's technology?
How well does the solution leverage Flutterwave's technology?
The winners
From 25 teams that participated in the hackathon, 15 teams submitted their projects. After two weeks of reviewing, 3 teams emerged winners, having earned the most points based on the criteria described above.
First Place: Team M with Plantit . A web app designed to promote positive climate actions among users by donating to plant trees. While users donate to plant trees, a token of their money is converted to points, after a considerable amount of time, users are able to convert their points into Airtime, Gift cards or Data.
In an interview, the winners explained that building a project like that with colleagues they had never met before was one of the best things about participating in this hackathon. Although they experienced some challenges like scheduling meetings having different time zones, they definitely would participate again at a Reloadly & Flutterwave hackathon.
The words which Team M defines for the hackathon are "Exciting", "Validated", "Challenging" and "Refreshing".
1st Runner-Up: Team D with the project WeTalk. This service allows users to subscribe to airtime from different providers. This solution helps Africans share and communicate more.
Talking with Team D, they admit that the experience of participating in this Hackathon has been so good that some of the team members would like to volunteer in the next editions. Team D explained that the biggest learnings they got were related to the team working, patience, communication and the opportunity to take the challenges from Africa and solve them.
The words which Team D defines for the hackathon are "Exciting", "Eye-opener", "Amazing" and "Exhausted".
2nd Runner-Up: Team L with the project Bus.io . They built a logistics service that helps individuals get bus trips and get rewarded. This solution helps tackle the transportation challenges in most African countries.
For Team L, one of the best things about participating in this hackathon was "to be able to work in an organized team with people from other cultures and different countries".
Team L told us they have had a wider knowledge about Reloadly APIs and products. In addition, they were able to learn more things about other countries, which helped them a lot with the development of the project.
The words which Team L defines for the hackathon are "Interesting", "Educative", "Amazing" and "Nice".
What did we learn?
Flutterwave & Reloadly decided to collaborate together because events like this are able to help professionals to make the most of their talents. It is not only about winning, but putting talent together to build something great and expose participants to the world of solving real problems.
This hackathon has not only shown us the power of team working, but also the huge potential that African technologists can offer to the community and their fantastic problem-solving skills. Africa is full of professionals with the ability to build solutions to solve many problems in their regions, and this is a fantastic opportunity.
On the final survey we sent to 100 participants, 94.4% of respondents said that they would be participating in another hackathon like this. So, stay tuned! This is just the beginning.
To close this article, a big shout out to our partner Flutterwave and all the amazing people involved in the organization of a project like this. This is the very beginning of something great. Follow us on Twitter and stay updated on more events like this.