Black Friday is not just one day or weekend. It's a week, a month, a season… For brands, Black Friday and Cyber Monday should be the most important days in the weeks leading up to Christmas. This period presents an incomparable opportunity to maximize revenue and results. While deep discounts can be attractive, you may want to consider including gift cards on Black Friday as an incentive strategy.
There are many tips and strategies you can start implementing today in order to maximize your company's performance and revenue. This year is the one to make a difference and use digital gift cards as a marketing tool during Black Friday and Cyber Monday campaigns. There are multiple ways for a brand to deploy different types of marketing programs with gift cards, and they could be the key factor to attracting more customers.
Get ready for the big event with the best gift card marketing strategies. Learn the reasons to start implementing them for Black Friday.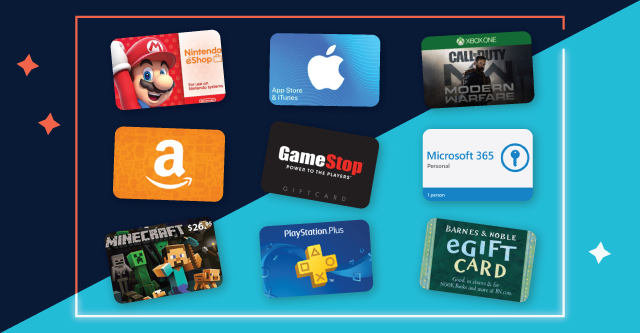 Why Gift Cards See Strong Performance During Black Friday and Cyber Monday?
Some of your customers will take advantage of the Black Week and will make most of the purchases for their Christmas presents to their loved ones. But the truth is that it is getting harder to find the perfect gift with a good bargain.
Here's when digital gift cards come into play: they are able to appeal to many consumers and fit with their preferences. In this way, the receivers of the gift cards can freely choose what they will like the most, instead of receiving the wrong gift.
Gift card market statistics have pointed to 2021 as a year of strong industry growth, especially during the third and fourth quarters. The projections are clear: this positive trend will continue, with an annual growth rate of 8.8%.
According to a Research and Market report, The US market is projected to reach $170.78 billion by the end of 2021. By the year 2025, the gift card industry is expected to reach
$238.97 billion, making the US industry the biggest in the world, with a share exceeding 50%.
Recent studies showed that the U.S. gift and incentive cards market is projected to Cross $221 billion by 2024, despite COVID-19 challenges. 2021 is the year which digital gift cards have reached the peak of their popularity.
5 Reasons To Offer Gift Cards For Black Friday and Cyber Monday
The trend of giving digital gift cards for different occasions is on the rise. By offering gift card deals, your company will double their chances to drive more clients to your business and increase their spending.
Here are the 5 reasons that shows that digital gift cards can be ideal your Black Friday and Cyber Monday strategies:
1. Getting back in touch with customers. Offer an attractive gift card reward to your inactive customers to win them back on Black Friday and Cyber Monday.
2. Offering digital gift cards will reduce the percentage of returned purchases. By having a gift card instead of a physical gift on Black Friday, the receivers will avoid the frustration of having to return unwanted presents they've received.
3. Increased smartphone use. The rising use of smartphones has made digital gift cards extremely popular and easy to send via mobile. Black Friday is the perfect opportunity to allow your customers to buy and send digital gift cards via their mobile devices.
4. Your customers will feel motivated to purchase. By cross-selling your products, your customers will receive a gift card as a reward when they spend over a certain amount in your business. The "Buy this and receive a gift card for free" is a very popular trend that will increase your sales.
5. The gift cards can be the promotion themselves. If this Black Week you really want to innovate and make a difference, offering a digital gift card as a promotion rather than the traditional discount will be a great strategy to stand out from your competitors and be remembered by your customers.
In conclusion
Want to reach those digital-savvy customers? Start diversifying your gifting options, go beyond traditional discounts and start implementing an effective digital gift card strategy.
Relaodly's gift card API makes it possible, allowing you to:
Integrate the API on your website or app quickly and easily.
Send gift cards to multiple people (bulk) worldwide within five seconds.
Access an ever-growing catalog of retailers including popular brands, such as Amazon, Apple, Nintendo, Roblox, and more.
Set precise values of gift cards via a dashboard with over 100 currencies
Manage, analyze and improve your gift card distribution with analytical real-time reporting