We are all digital these days and there is no way we are going back to the old times. Mobile smartphones give us the advantage to carry with us an assortment of utilities. From music players and games to credit cards and digital vouchers to be redeem for digital goods. Smartphones are paving the way for a smarter, cleaner future. A brighter gift card future.
It is only natural that the digital gift card industry would find in mobile smartphones a new home. Physical gift cards are still a valid option today, but migration to the digital medium is growing rapidly. When we are unsure about what kind of present to give, digital gift cards are the best alternatives. They are one of the best options for companies that wish to reward their employees for a job well done. They always work as great incentives for workers, or as a means to energize a customer loyalty program.
Where to chose from?
It is always important to have in mind the kind of gift that is meant to be given. There are gift cards for gaming and music lovers, but there are also options issued by hotels, airlines, sports clubs, and clothing brands.
Reloadly has developed a robust API for digital gift cards. Businesses and merchants that integrate it will have access to up to 300 brands. From Netflix to Amazon, and everything in between. There is a large catalogue of gifts to be given
With so much variety, it is important to have an idea of where the industry stands today, as well as where it is going. It is also important to know where it came from.
Gift Cards. A Brief History
The idea of giving somebody a voucher to be exchanged for goods is not new. It can be dated all the way back to the 1930s, when large American department stores would issue gift certificates to their club customers, but the idea didn't catch mainstream fire until the 1970s, when McDonald's started giving out its own Christmas gift certificates. These latter evolved into McDonald's Arch Cards, which are still very popular these days, either physically or digitally. These early attempts to what we now understand as gift cards were not bulletproof, though. They were subjected to all forms of fraud, were limited to just loyal customers, and demanded a long and tedious process to redeem them.
The now defunct video rental chain Blockbuster can be considered as the first company to successfully run a mass market gift card program. They were not the first to modernize the gift card, but they were the first ones to properly market them. It began test runs back in 1994, and a year later, they were available for both subscription customers and outsiders. It was 1995, and the birth of the gift card as we know it coincided with the commercial launch of the Internet, thus it can rightly be seen as an early product of the digital age. These gift cards, however, were a use-only-once affair. It wasn't until the early 2000s when Starbucks designed the world's first reloadable gift cards, a scheme that has resulted in one of the world's most successful loyalty programs, Starbucks Rewards.
Where is the Gift Cards standing Today?
These days gift cards are not limited to just one store, as almost every major international brand is currently running a successful gift card program. Regional players, like bookstores, restaurants, and sports clubs, also run their own programs, so the business model is here to stay and grow, if consumer demand and technology grows. The latter's importance can't be fully stressed, though. Technology plays a very important role in the way business models evolve, and the gift card is no exception, as it has already gone digital.
The rise and evolution of the smartphone has played a key role. Thanks to this technology, the ease at which people these days can go about making payments or conducting business has revolutionized the way gift cards can be acquired. Even though physical cards still exist, it is no longer necessary to go to a store and buy them when you can easily purchase and send them via mobile smartphones. However, there are other factors that have played a role in the digitalization of the gift card and will affect gift card future.
The Pandemic Years
The lockdowns that resulted from the Pandemic not only affected travel, but the entirety of the global market. Every aspect of our life, both personal and professional, was changed by it. Including the way we buy and enjoy goods. Gift cards were no exception to this, as this was the moment when their rapid digitalization took place.
Before Covid-19 and the lockdowns, the in-stores gift card market in the USA alone was valued at around US$156.8 billion, back in 2019. It saw a slight 7% decrease in 2020, due the mobility restrictions imposed by governments, but the trend was global. People all over were forced to do their shopping online, and that included gift cards, with 48.28% of them being bought in December of 2020.
Convenience and affordability, and an untimely biological catastrophe (it must be said), started to shape the market we presently find ourselves in. Even though, at the time of this writing, 54% of polled customers still prefer physical gift cards over digital ones, sensibilities are changing. By 2022, 48% of customers claimed to have bought more digital gift cards over physical ones, and the number can be expected to grow as digital wallets, and the idea of a digital cashless society, gain popularity. Specially among younger consumers.
What is the Customer Looking for in a Digital Gift Card?
Indeed, the Pandemic played a role in the present digitalization of the gift card (and, it could be said, life in general), but so did the social changes introduced by mobile smartphones. These are fast days, and they are getting faster. Bulky, physical media seems to be in the way of economic growth, and that includes cash and vouchers.
Contactless payments and digital wallets are normalizing the new ways we go about conducting our businesses and purchases, so the stage is now set for a massive preference for digital gift cards over physical ones. People who prefer digital gift cards appreciate how easy it is to purchase and send them through. Their quick delivery to the intended receiver is also a bonus.
Unlike their physical counterparts, digital gift cards are harder to counterfeit and can be redeemed only by the intended receiver, making them of reliable. Since they are delivered online, they are safe from theft or getting lost in the mail. They are also ecofriendly, which is a factor of importance for a growing number of young people, roughly 75% of millennials, according to some estimates.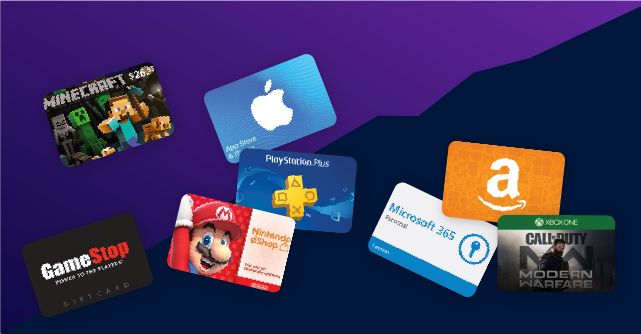 What about the Benefits of Gift Cards for Businesses Themselves?
Gift cards are a fun and cool gift for your loved ones, but what about their use for business strategies? For brands, they are a low-cost means to keep their name, product, and image relevant in the customer's mind, and afloat in the market. The more of their cards are bought and delivered, either physical or digital, the more visibility and customers it acquires. As far as marketing tools go, gift cards are the perfect campaign.
They also boost sales. Gift cards, digital or otherwise, usually come with a specific amount of preloaded money, but that doesn't mean customers will stop there. Usually, once at the store (or digital marketplace), they will purchase items of much higher value, which is a a win-win scenario. On the one hand, the customer will only pay a fraction of the total price. On the other, the store will see more revenue come in.
Loyalty programs and incentives
Businesses can also use them to run successful loyalty programs. People will often buy more than one gift card if reward points, or a loyalty program, are offered.  
A case in point is Starbucks' own loyalty program, Starbucks Rewards, launched in 2009. It issues a gift card whose balance can be checked though an easy-to-use app. The loyalty program gives free beverages, food, and discounts. It has been found that 48% of mobile users with a preference for restaurant programs love Starbucks Rewards.
For companies, gift cards are also a good way to incentivize workers. They make their employees feel appreciated. They also give them the power to chose a gift of their liking. This way, companies do not risk disappointing them. Surveys have found that 44.07% of employees prefer digital gift cards over traditional corporate presents. Integrating a technology like Reloadly's Gift Card API would be a perfect means to get a reward program up and running.
Gift Card Future. Where is this Market Going?
Back in 2017, the global gift card market size was recorded at US$320 billion. With an estimated Compound Annual Growth Rate (CAGR) of 5.8%, it is expected to hit US$510 billion by 2025.
The regional Asia-Pacific market is expected to grow with a CAGR of 9.6%. It will go from a recorded US$19 million in 2021, to a US$30 million by 2026. Despite the inconveniences of the Pandemic, the gift card market in the Asia-Pacific region stood against the massive economic slowdown. There is currently rising demand for gift cards in the region. All of it regulated through a very favorable legal framework. The region is becoming more attractive to gift card companies that wish to expand their business.
Looking Ahead
The digital gift card has evolved since its early days as a voucher for customers of large apartment stores. These days, its importance is undeniable. Its future looks bright, ready for massive growth in the near future.
Its value as a tool for companies to engage and appreciate their workers through cannot be stressed enough. Award them with a sweet token of digital goods. Then, they can spend them at their leisure.
Be sure to get in touch with Reloadly's team to get started. That way, you will learn how to be a part of the digital gift card revolution.