It is undeniable that life has changed dramatically in the last twenty plus years. The advent of the smartphone revolutionized the way we communicate. It also opened a whole new perspective around the things we already took for granted. From work to play, to the ways we go about meeting people and spending our spare hours. It was just a matter of time before the possibilities offered by mobile phones brought together activities that semmed unrelated.
Nobody would have taken us seriously before the 2000s, had talked about the mass success of gamification. That is, bringing together elements of gaming to make work more enjoyable. Also to engage and retain customers.
Easy and fun
Gamification is a tried-and-true technique that is being used today by some of the world's most recognizable brands. A report shows that gamification can increase customer acquisition by as much as 700%. Customer angagement and loyalty increase as well. For brands like eBay and Wallgrens, it's gone up by 30%.
Many gamification schemes reward workers as well as customers. A good way of doing so is through data bundles, airtime, or digital gift cards. For example, Reloadly's API for to ups can be integrated by a company that wishes to reward customers with airtime.
Why airtime, though? What is airtime? It is the number of minutes a person has available to talk on a mobile phone. It is a commodity in many countries where prepaid plans dominate the mobile landscape. Places like Nigeria, Colombia or India, where large numbers of migrant workers and expats come from.
A brief history of Gamification
It was first imagined by Charles A. Coonradt as a means to diversify menial work and increase engagement among employees. The idea was laid in his 1984 book, The game of Work: How to Enjoy Work as Much as Play. Applications of this philosophy for corporations, as well as marketing and retail, became a norm in the early 2010s. On the one hand, due to the normalization of video game culture. On the other, due to the rapid growth and adoption of mobile smartphones.
Its application in marketing and loyalty programs has led to fantastic growth for both B2B and B2C companies. Among them, Microsoft and Autodesk, but also Roblox, Foursquare, and Duolingo. Even Japan's branch of KFC managed to increase sales by 106% through gamification.
What makes gamification work?
Companies that want to attract and engage customers should incorporate video gaming's sensibilities in their gamification techniques. There are various ways to break this down. However, the three main components that must be found in engaging gamification platforms are:
Points: Used to track customer/player's progress through the game. They can be awarded after achieving certain goals or a desired behavior. Goals could be clocking X number of minutes of gameplay, for example. These are minutes of customer engagement with the brand.
Badges: Given to customers after certain accomplishments, such as earning a given number of points or reaching certain levels. They should be meaningful to the customer/player the same way a promotion is meaningful to an employee.
Leaderboards: Where scores and achievements are displayed, and customers/players are ranked against each other. Online browsers and mobile gaming allow customers/players to compete with others and show off their skills in the game. One of the surest ways to retain them into the brand's fold. 
There are, of course, many additions that could be incorporated, depending on the company's marketing scheme. For example, rewards. Businesses can reward customers for their engagement with small data bundles. Reloadly's API for top ups can easily be used for that.
Three Approaches. Three Success Stories
Gamification is a successful marketing campaign disguised as a game. Brands, both big and small, have been attracted to the benefits of gamifying the customer experience. Their engagement, retention, and loyalty can easily build up with the tools and attitude. Most importantly, the game itself needs to be challenging and fun. Not any kind of gaming experience will work. There are interesting case studies to see how certain companies have reached outstanding goals.
M&M's Eye Spy Pretzel
The case of M&M's is interesting because it illustrates how a simple idea can yield great results. Back in 2010, the company launched a new product: a pretzel-flavored version of its well-known chocolate candy. The product was moderately successful. The company decided to further promote it by launching a brand-new campaign on Facebook three years later. 
It was a simple and inexpensive move. By showing a composite image of M&Ms and asking customers to find the hidden pretzel among them, Eye Spy Pretzel became an overnight hit. The simple Facebook message obtained 26,783 likes and 11,459 comments. It was shared 6,302 times.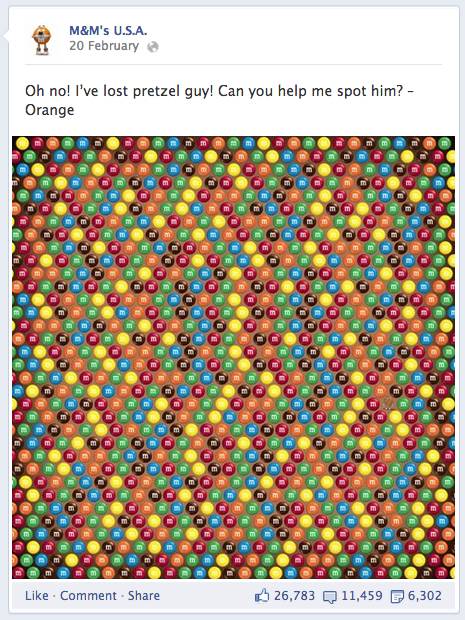 These are impressive results, considering the low budget behind the campaign. M&M's obtained customer engagement by adding gaming elements to its campaign. By thoroughly searching for the small pretzel, the audience built a memory of the new product. This increased brand engagement and curiosity to try this new flavor out.
Nike+ Fuelband
It's not easy to stay fit. Not only does it take hard work, but it also requires a time investment that many people do not have. It's been a long time since Nike established itself as a giant among sport brands. Back in 2012 the company release its Nike+ Fuelband, an activity tracker wristband linked to iOS and Android devices, that gave them an added advantage within the industry.
Users needed to download the Nike+ app on their phones and used it in conjunction with the wristband to track their workout routine. Nike's main goal, however, was to keep in touch with them to gather data that would later be used for personalized engagement and content marketing. What made the Nike+ Fuelband a success was the gamification techniques.
Essentially, customers competed against each other over the internet. The Nike+ app linked the user's Fuelband data with his/her social media networks, thus creating a sort of large-scale leaderboard. Customers earned badges after completing various levels and fitness tasks. The results were shared among friends and strangers through their social networks. This helped increase Nike's brand visibility. The data that was gathered by the company was later used to curate personal services. This streamlined Nike's digital marketing.
Ackermans
This retailer from South Africa decided to team up with Disney to build stronger customer loyalty. To do so, they teamed up with gamification platform Sea Monster to create an engaging Augmented Reality (AR). This experience was targeted specifically at children.
In a nutshell, Ackermans and Disney created a line of Lion King merchandise. Sea Monster's job was to create an app to display animated 3D scenes on mobile screens whenever customers scanned pictures of the movie's characters at Ackermans merchandise. Also on displays around the stores.
Scanning merchandise for a fun AR experience is common in Europe and the United States, but the experience was brand new in South Africa. This resulted in a successful loyalty program for the South African retailer. Customer rewards included vouchers redeemed in-store, thus increasing the number of visits to the various physical locales around the country. Other rewards included airtime and data, redeemed on the go.
Reloadly's multiple APIs for airtime, data bundles and digital gift cards come into play in reward schemes like Ackerman's. Customers don't need to buy a data bundle if they can be rewarded one by engaging with a store. It's a win-win situation.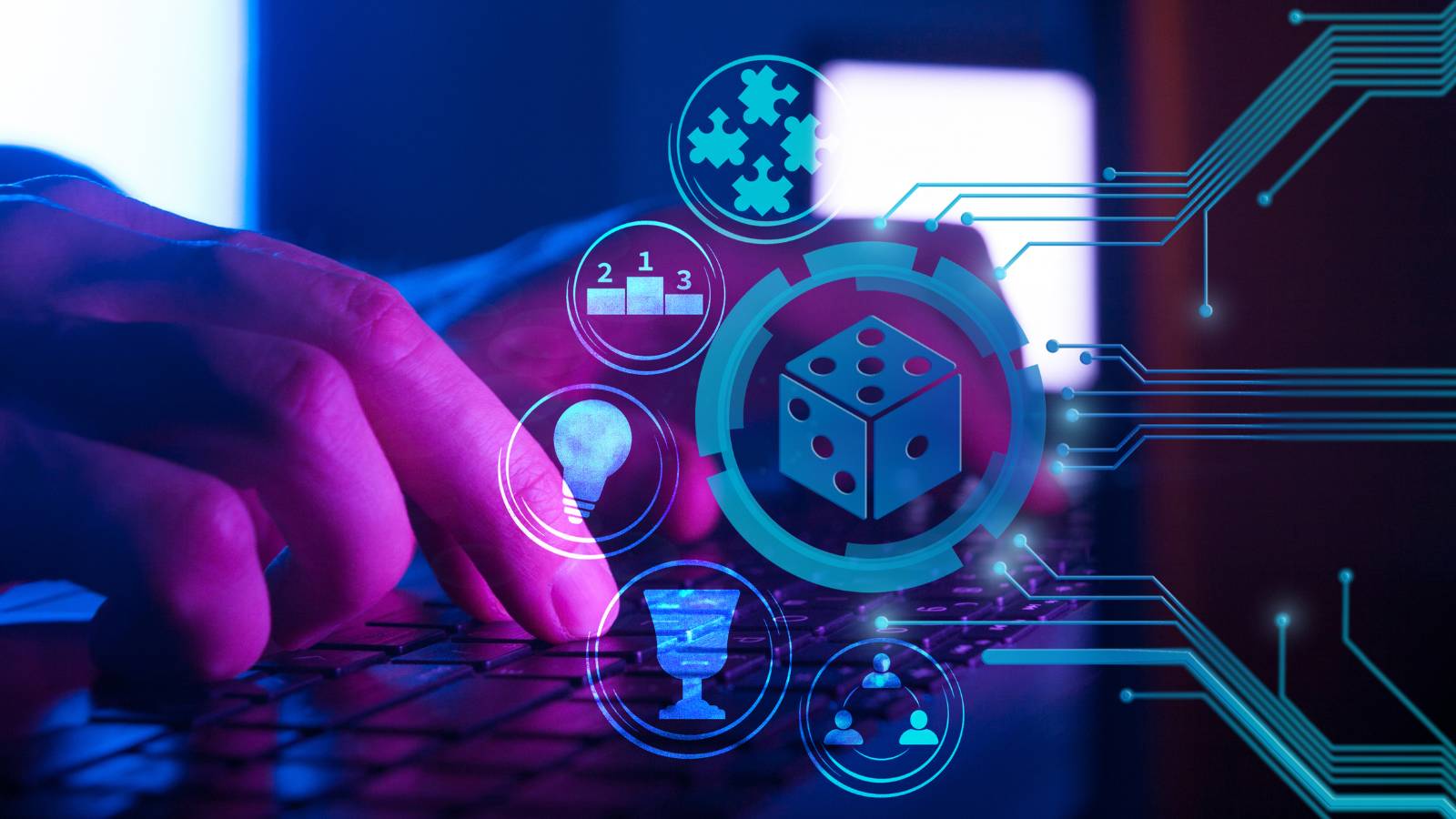 A quick strategy to engage customers with gamification
A successful gamification campaign takes time. Engaging and retaining customers through gaming techniques requires a careful study of the product, services, rewards, and target audience, but it must never forget that, at its core, the idea is to design a gaming experience.
Competition among customers: People are naturally competitive, and love to improve upon their previous success while topping friends and strangers alike. If you are a brand, you should not forget the basics of gamification to generate such a feeling for friendly competition: points, badges, leaderboards, etc.
Incentives: There is no point in generating competition among customers if there is nothing worthwhile to compete for. From ordinary to extraordinary prices, they should be palatable enough so that customers will return to the gaming experience. By engaging in competition and giving away rewards, customers will feel appreciated, and this will form a stronger retention to the brand.
Build strong loyalty: Along with a gaming strategy, a strong loyalty program will reinforce customer retention. A good example is Starbucks' years old loyalty program that can be found in their app. Every time a customer buys anything through it, he or she receives points that can be accumulated for rewards, like free coffees or bagels. Not only does this gamify the purchasing experience, it creates the incentive to stay loyal and ignore the competition.
Reloadly can be of great help to set up a successful reward/loyalty program. Its APIs act as in-betweeners that facilitate conditions and provide rewards to customers, such as airtime, data bundles, or digital gift cards. Combined with a fun and challenging gaming experience, this tandem can be a great tool to drive customer engagement, sales, and brand recognition. A good way to start doing so is by getting in touch with us!
Some final thoughts
A successful and well played gamification marketing campaign will result in measurable improvements for any business. It can be as sophisticated as Ackermans and Nike's, or as simple as M&Ms, it's all about playing the cards right, understanding the target audience, and having realistic, measurable, goals. Almost any aspect of the customer experience can be gamified, so the possibilities of new and exciting marketing campaigns are endless.