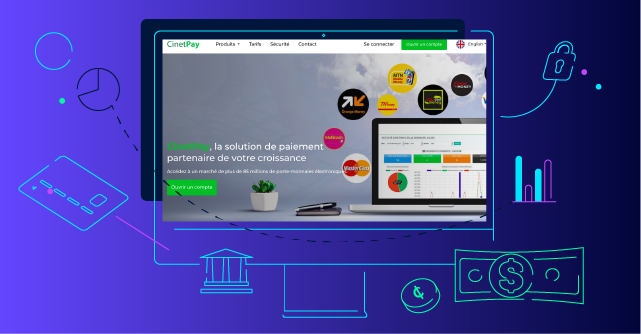 Africans demand better mobile payment services, but without all the hassle they are used to today. To better enable bulk airtime transfers, Cinetpay turned to Reloadly to launch what has quickly become a popular service.
Learning how to identify and fill market gaps is key to becoming a successful entrepreneur. And this is exactly what Idriss Marcial Monthe did when he co-founded Cinetpay, an online payment gateway company based in Côte d'Ivoire.
Together with his friend Daniel Dindji, Monthe realized that many Africans still faced major issues doing something as simple as collecting online payments. It was already 2016, and there was no need to be that behind in the digital age.
So the pair launched Cinetpay to plug in the gaps – giving individuals and businesses the hitherto missing infrastructure needed to easily collect payments online, safely and quickly.
The Cinetpay team quickly noticed that the world of payments is broad, especially in Africa. Online payments today can also take the form of mobile airtime credit transfers, sending gift cards, cryptocurrency payments, and many other methods.
This is when Cinetpay discovered they needed to integrate a tool that helped them serve the large variety of payment methods the online economy now demands.
In stepped Reloadly, offering an mobile airtime API that allowed the Cinetpay team to quickly ramp up their ability to enable airtime transfers.
The results were rapid – and telling. So we spoke with Cinetpay CEO Idriss Marcial Monthe to hear just how his team is filling the marketing gaps in the Africa payments industry alongside the help of emerging technology like Reloadly.
Here is what he had to say.
1. Why is it important to offer an airtime transfer service in West Africa?
At the end of 2018, sub-Saharan Africa had 456 million unique mobile subscribers, an increase of 20 million from the previous year, making for a penetration rate of 44%.
However, only about 239 million people, or 23% of the population, use the mobile internet on a daily basis, according to GSMA. Because airtime is an important consumer product in Africa, we believe it is important to make airtime accessible to all, especially the financially vulnerable.
2. How has using an airtime API helped Cinetpay quickly offer this service to Africans?
Last month, Cinetpay customers sent about $15,000 of payments in airtime transfers via Moov and Orange in Côte d'Ivoire. This was possible thanks to the integration of an airtime API.
Indeed, the service provider Reloadly was chosen for the simplicity of integration of its APIs and the effective presence of the 3 main operators on the Ivorian territory. It allowed us, by integrating just a single API, to offer airtime to our customers on the Moov, Orange and MTN Networks in Côte d'Ivoire.
3. How are emerging online payment platforms changing the status quo?
In French-speaking Africa, there are 130 mobile money operators and for a company that sells online, they are usefully forced to sign 130 contracts, integrate 130 APIs, manage 130 accounts and dialogue with 130 contacts.
CinetPay makes life easier for these companies by offering them a single contract and a single interface, one account, and one contact in order to enable them to collect payments in more than 9 countries in French-speaking Africa.
We also offer the best technology on the market for fast and secure transactions.
4. Explain your main products and how they offer better ways to do business online in Africa
We offer solutions such as online Payment or online digital payment collection, which allows insurers, banks, schools and universities, African entrepreneurs and even public services and administrations to receive their payment online via mobile money, bank cards and e-wallets worldwide.
We also offer money transfers or bulk payments to mobile money accounts and bank cards. This solution is for social payments, salary payments or supplier payments, and it allows mass money transfers in a few clicks from the CinetPay payment interface on a mobile phone.
5. Finally, what is your vision for the future of the payments market in Africa? 
We believe that merchant payments are just taking off in sub-Saharan Africa as cash is still widely used for our various transactions.
It will therefore be only a matter of time before the banks, telcos and fintechs propose concrete solutions that meet the needs of the population for the digitalisation of bill payments and public services.
People are not looking for technology, they are looking for solutions adapted to their needs. And given the fact that the telephone has a high penetration rate in sub-Saharan Africa with uses such as mobile money, it is normal that mobile payments be popularised to reduce the use of cash in transactions.
We are in this dynamic at Cinetpay by accompanying the state in the digitalisation of payments for several services. In Côte d'Ivoire, for example, people can now pay the stamp fees for their identity documents through their phones. The same goes for Covid test fees for travel outside the country.