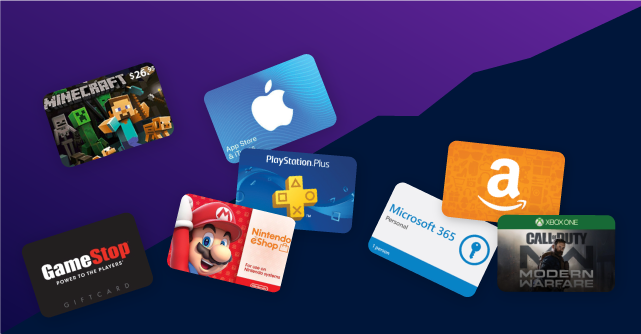 Do you want to sell digital gift cards online instantly and enhance revenue? In this article, you will discover how to take your digital business to the next level by offering your users endless possibilities.
A gift card is much more than a gift today. Businesses of all sizes and industries are using gift cards as an additional service to get loyalty and customer engagement. With today's flexible API technology, selling digital gift cards online instantly is easier than ever. Digital vouchers can gradually cultivate customers to generate new consumption habits, which translates to more monthly active users, more revenue, and engagement for business. Welcome to the digital gifting era.
Gift cards are a smart solution for all kinds of companies that want to upsell or cross-sell new digital products. For example, a cryptocurrency exchange app can start selling different kinds of gift cards to its users, giving them cashback every time they buy a gift card through their app. In this way, the cryptocurrency exchange will generate more active users on the platform, more revenue, and consequently, more customer loyalty.
There is a list of reasons why it's essential to sell digital gift cards online and send them to your users instantly. In this article, we will cover all the topics related to selling gift cards online and how a business can start doing it today. Let's go.
Digital gift cards: powerful incentives for user engagement
Gift cards are powerful incentives for user engagement because they can be used to purchase items in an easy way, no matter the budget. By offering them as incentives, gift cards can encourage users to continue to engage with a product or service. Additionally, gift cards can be used to show appreciation for customer loyalty or to encourage customers to try a new product.
Today, truly exploiting the power of digital goods incentives requires a strong understanding of how gift card marketing strategies can best benefit your business. Some advantages of selling digital gift cards online are:
Reach a wider audience: By selling digital gift cards online, companies can reach a larger audience than the ones that are physically limited. . The advantage of instant sales that the digital world provides to us allows people all over the world to purchase a digital gift card, no matter where they are based.
Save on costs: There are not any shipping costs associated with selling digital gift cards online instantly. In fact, this can be a good strategy to generate revenue through commissions.
Gift cards offer more flexibility: Digital vouchers can be easily customized to offer different values, currencies, countries, expiration dates, and more. This allows companies to better meet the needs of their customers.
Instant sale and delivery: Selling and delivering digital gift cards online instantly after the purchase, is more crucial than ever for businesses and customers. There is no need to wait for the card to arrive via email or SMS.
Some studies have demonstrated that consumers tend to purchase more products when there is a reward or an attached gift. A reward strategy may encourage customers to buy more products from a store. As a result, a business' revenues will increase significantly.
As incentives and rewards, gift cards have become flexible and attractive options to consumers. Creating a good reward strategy will make users feel aligned with a brand, trusting and appreciating it for treating well and compensating them for being good clients. Surely, customers will come back to the brand that rewards them, and also they'll refer their friends. That's the power of rewarding.
[Looking to implement a incentives and rewards strategy? Reloadly provides a gift card API that allows you to integrate a catalog of global retailers directly into your app or web platform within minutes. Register for free, or ask your burning questions by sending us a message.]
How to sell digital gift cards online instantly?
When it comes to selling gift cards, there are two different ways to do it instantly, depending on your coding skills.
It's important to review both ways and choose the one that better suits your business and development capabilities.
In case you have a developer team in your company, you can ask them to integrate a Gift Card API on your website or app.
In case you don't have a developer team or developer skills, then you will be interested in integrating a Gift Card Plugin.
Now, we will explain the difference between both options and how to integrate each one of them.
How to sell digital gift cards online via API
Gift card APIs allow developers to build gift card distribution services in one of two ways: a code-first or developer-first approach. While a code-first approach focuses solely on functionality, a developer-first approach is based on creating value across various points of the gift card business model.
Developer-first gift card APIs prioritize the developer's experience, enabling developers to leverage agile technology to provide the best outcomes for company stakeholders and end-users.
To start using the Reloadly Gift Card API, you need to take the following steps:
To start reselling digital gift cards online instantly via API, you need to log in to your Reloadly account from the dashboard. If you do not have one, no worries! You can register for free and get your account ready in sixty seconds, without ever signing a contract. All you need to submit is your name and email, and you get an account at no cost.
Download the postman collection: Reloadly's Postman Collection is the gateway to our gift card reselling API. The illustrations in this section are from the Postman collection, and they are a guide to getting started quickly and securely. The Postman Collection can be downloaded here. Afterward, a POST request will be made to retrieve your user access token. A user can then find their client credentials by navigating to the Developers > API settings section.
Define all endpoints: The next process would be defining endpoints to interact with. To best utilize Reloadly's gift card API, the main endpoints you'll need are:
Get Products By ID: Retrieves all the details of a particular gift card product when an API request is made with the product's identification number.
GET Discounts: Returns a full list of every discount for all gift card products on Reloadly's database.
GET Discounts by Product ID: Returns all available discounts for a particular product based on its product identification number.
Order: Purchases a gift card by making an API request with the gift card's product details.
Redeem Codes: Obtains the redeem code and/or PIN of a purchased gift card.
[To learn more about how each endpoint works, check out our Gift Card API documentation.]
How to sell digital gift cards online via Plugin
Reloadly's WordPress plugin enables site owners to easily start selling gift cards within minutes. This plugin grants access to the world's leading gift card brands to process real-time purchases. Our coverage spans over 300+ brands and over 14,000 products on one plugin. You will need to set up your merchant account with Stripe or Paypal to access credit card payments from your customers.
No code and no software development are required, just enable the Reloadly Plugin on your WordPress site and follow the steps below:
Select country and product to send
Enter or select the amount to recharge
Confirm and send gift cards via SMS or email.
[The Reloadly Gift Card Plugin will be available in May 2022. Keep an eye on the Developers Docs and save your seat for our launch event on April 28, 2022: More engagement, Less code.]
In conclusion
When a business is looking for a quick and innovative way to increase their revenue, monthly active users, and user engagement, offering digital gift cards online to their customers is a great solution.
Since the digital business ecosystem has grown increasingly, it is important to differentiate from the competitors by establishing a good relationship with the customer, which can be successfully done by implementing a gift card reward strategy.
Following the steps above will help you to sell digital gift cards online instantly through a safe process, as well as ensure that recipients will be able to activate them quickly via Reloadly's gift card API.