It's official: we can no longer imagine a world without mobile devices, and the financial sector is not an exception. It's impossible for all of us to overlook the fact that the Covid era has scaled some digital developments that have permeated many aspects of our daily lives. The emerging trends on mobile payments foresee a future where contactless payments, mobile wallets and QR code payments will be the norm for day-to-day payments.
As consumers are using less cash and more digital payment options, businesses have increasingly embraced technologies that favor the post-Covid world: the contactless world. Perhaps is more noticeable than ever the growth of mobile payments apps, that have become permanent features on our smartphones.
To maintain the growth, more and more payment institutions, fintech and eCommerce companies are adapting to this demand by offering a mix of emerging mobile payments solutions and trends. Businesses are investing in ways to facilitate fast, secure, personalized and easy mobile payments.
The world of mobile payments never ceases to amaze us. How will things look in the future? Which are the mobile payment trends for 2022? In this article, we will provide businesses of all sizes and industries with the latest trends in mobile payments, so you can adapt your payment platforms and getaways to changing expectations in 2022.
What is mobile payment?
Mobile payments allow users to complete transactions successfully from a mobile device. Some mobile payments are using third-party apps to complete the transactions (like PayPal, for instance), while others use a mobile wallet stored on the smartphone.
The two main ways mobile payments can be made are through mobile money transfers and using mobile wallets. In other words, mobile payments features allow users to make payments for services and products online, instead of using credit cards or cash.
Mobile payments statistics and global trends
In many countries, cash is gradually disappearing to make way to mobile payments. Of course, there are still many regions that have not transitioned 100% to mobile payments solutions. Nevertheless, we can see that the use of mobile devices as payment instruments has a promising future. We should start by mentioning the fact that smartphones have become an extension of our daily and social life.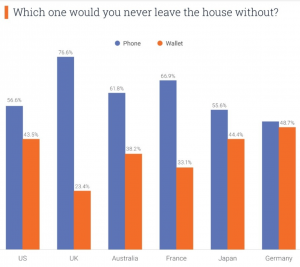 Undoubtedly, the youngest generations have chosen digital mobile payments as their favorite way to manage their finances.
In recent years, fintech has gained specific weight in the matter of cheaper, faster and more flexible digital payments. This change has been carried out in two ways: non-traditional bank rails and modern tech solutions.
Unquestionably, fintech is a game-changer for mobile payments and transfers, solving most of the shortcomings. For this reason, consumers in every country are choosing these companies instead of more traditional entities. 
According to research by Stanford Graduate School of Business, it is forecast that by 2023 1.31 billion people worldwide will be using mobile payments apps over a 6 month period. Currently, the numbers are around 1 billion.
Mordor Intelligence statistics show that the use of mobile payments is set to continue its growth in the future, with a compound annual growth rate of 26.93% between 2020 and 2025.
Regarding in-store mobile payments, Business Intelligence forecasts that the value of these payments in the U.S. will reach $128 billion by 2021.
[Looking to implement a mobile payment API in your business? Reloadly provides Airtime, Data Bundles and Gift Cards APIs that allow you to integrate a set of payment services directly into your app or web platform within a day. Get your free API keys now.]
The future of mobile payment: Trends for 2022
Over 2022, businesses and financial institutions are more likely to see decisive changes and integrations when it comes to mobile payments and the demand for immediacy, flexibility and simplicity.
The shift to mobile payments will accelerate during 2022. There are some key trends and solutions that will definitely lead to payment emerging solutions for mobile users.
1. Super apps
The latest trend in digital mobile payments are the super apps. A super-app is a mobile application that provides multiple services including payment and financial transaction processing, effectively becoming an all-encompassing self-contained commerce and communication online platform that embraces many aspects of personal and commercial life.
These super apps are capable of delivering packages of digital services that users need. Financial services are one of the most important systems on which these kinds of apps are building their ecosystems.
The Chinese apps Alipay and WeChat are leading the competition, and they have an estimated user base of over a billion users each. Though just a single place, super apps act as one-stop shops for all their users' needs. Any independent business has the opportunity to build its digital presence on these super apps, having access to the biggest user database.
2. Digital wallets
Digital wallets are apps that communicate with POS systems to process transactions. These apps can be stored on a user's phone where the credit card information is saved. At the moment, Apple Pay, Android Pay and Apple Pay are the most common digital wallets in the market.
The good thing about digital wallets is that these apps are truly safe thanks to security measures like tokenization, so they're hard to hack. A business that decides to include digital wallets as payment options will improve customer satisfaction and will maximize an existing channel in order to drive further engagement with its users.
3. Personal Payment Apps
In addition to digital wallets, personal payment apps (person-to-person/P2P/Peer-to-peer payment apps) are becoming more and more popular among digital users. These services are apps or app features that allow consumers to send money to other people by searching for their personal data like phone number, email address or username. These transactions are quick and usually for free.
Some of the most common P2P services are Zelle, Venmo or PayPal. As these services are more and more linked to consumers' bank accounts, some companies like Amazon, for instance, are starting to integrate these personal payment apps into their payment options.
4. Cryptocurrency as payment
It is known that crypto coins have become one of the most famous trading products during the last 2021, and 2022 will not disappoint all the crypto fans. If you are planning to innovate this 2022 and implement a way to push your users' payments, you should consider accepting bitcoin or other cryptocurrencies as payment.
Bitcoin has already impacted mobile payments and is forecasted that the trend will continue during 2022. Cryptocurrencies have changed mobile payments, allowing those who have a smartphone and internet connection to interact with other users worldwide, especially in emerging countries.
5. Buy Now, Pay Later (BNPL)
At this time, users don't only value the speed and simplicity of mobile payments, but also the convenience of payment methods and the flexibility of spending. For this rising demand, retailers are implementing the buy now, pay later (BNPL) trend. This payment option consists in the possibility that, once the payment is done, the consumers have the option of dividing the total order into smaller payments by time frames (months or years).
By using flexible payment options, besides the direct benefit to consumers, merchants will also see a benefit in their conversion rates, as BNPL can increase average order values. BNPL regulation is impacting positively on digital users, especially on young consumers who may have limited financial stability.
In conclusion
The future of mobile payment trends is exciting. As futurist predictions are mostly talking about super apps, blockchain and artificial intelligence, we are expecting mobile payment options to take their position in these technologies. It's clear that the future trends of mobile payments are 100% mobile, and here at Reloadly, we are excited about being part of this evolution.
There is an ocean of opportunities for the mobile payment industry. New product categories are expected to emerge, and technology has come with the promise to improve mobile payments by providing cheaper, faster, and more transparent services.