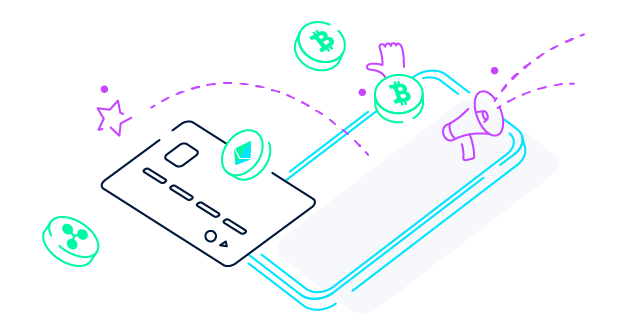 For businesses looking to increase retention and engagement, blockchain can provide loyalty strategies with crypto for instant rewards
In September 2021, El Salvador became the first country to accept Bitcoin as legal tender, and in October same year, the first Bitcoin ETF in the US began trading. These crypto dynamics have continuously left many consumers and companies curious about the new digital currencies, open to incorporating them in many business strategies as crypto rewards programs.
Crypto, an emerging digital technology, is gaining more and more attention from financial institutions, investors, merchants, startups, and fintech. In 2022 there will still be a significant increase in consumer adoption, which is leading to businesses making moves and accepting cryptocurrencies as a form of payment and including crypto in their rewards programs.
During the Covid shutdowns, consumers' daily habits have been changing a lot. Many people adopted a new way of purchasing goods and services online. The current escenario is perfect ground for crypto assets to spread. Consumers have quickly adopted digital currencies, and so have businesses. A recent Gartner report says 20% of large enterprises will use digital currencies by 2024. This extends to reward programs that are being modernized to meet consumer needs and trends.

By offering digital currencies as rewards, retailers are leveraging their rewards programs using crypto and bringing shoppers back to their stores. Blockchain technology is being used for rewards programs in a number of ways. For example, blockchain-based rewards programs can track and distribute rewards points, coupons, or other loyalty program benefits. Additionally, blockchain technology can be used to verify customer identities and prevent fraud. Crypto is becoming the most desirable digital reward, as it is liquid and global.
The Blockchain revolution for crypto reward programs
Customer loyalty programs offer direct financial benefits to companies, and also better customer information for strategic decision-making. According to a Tuck School of Business at Dartmouth study, crypto and points reward programs incentivize customers to complete more purchases if there's a reward in place. In consequence, companies can increase loyalty, reduce CAC and increase sales.
The traditional loyalty programs have been facing some challenges from the customer perspective, such as the need to register and create accounts, geographical limitations, rules, limited rewards choices… The good news is blockchain technology can attenuate these challenges, allowing the customers to accumulate crypto rewards into a single wallet. The accumulated cryptocurrencies can be redeemed from all the partner companies collaborating around the transaction.
Surveys are showing that consumers are more likely to choose brands that reward them for being good customers, and now businesses are seeking ways to make their rewards programs more engaging. In surveys, 44% of consumers say they are interested in receiving loyalty rewards in the form of cryptocurrencies as an alternative to traditional retailers' rewards programs. If the big brands start to get involved in this trend, rewarding consumers with digital assets will become the norm.
The Bakkt Loyalty and Rewards 2022 Outlook Study found that 72% of American consumers who purchased crypto at least one time in the past six months are likely to redeem loyalty points for cryptos. Also, this study shows that 51% of crypto buyers are interested in crypto rewards programs.
Crypto rewards programs can close a knowledge gap among new crypto users and relieve the barriers for customers that are exploring crypto for the first time and help them reach their goals. Brands are attracting and engaging with their audiences using crypto, as it is becoming a more mainstream asset. The Bakkt study also shows that those aged 18-44 are the most interested group, as they say, they will invest in crypto for the first time in the next 6 months.
Benefits of incorporating cryptocurrencies into your reward program
Loyalty points have been leading the loyalty rewards industry, and although they have some things in common with cryptocurrency, they're not the same. For example, they differentiate in the centralization: while loyalty points will always have a fixed value, crypto wallets are decentralized, and the value of those tokens will fluctuate with market demand.
If consumers and brands are seeing cryptocurrencies as the future of money, then it makes sense they are starting to see them as the future in loyalty rewards programs. These four reasons explain the benefits of including crypto in a rewards program:
Crypto-linking or card-linked rewards (as discounts or cash-back rewards) can offer users an easy entry into investing in this digital currency. In this way, the cryptocurrency can appreciate, be traded, and used as collateral on a loan, or be withdrawn and spent.
The global nature of cryptocurrencies can remove the financial barriers to sharing data. This is an opportunity for businesses to build virtual and international partnerships: if the users receive rewards in the form of Bitcoin, they will be able to redeem them with any retailers that partner with Bitcoin. In this way, merchants will know how their users' consumption habits are and which brands they're spending money.
Cryptocurrencies could potentially help to limit a company's financial liability in the event of a data breach or other security incident. By rewarding cryptocurrencies, companies can draw encrypted money from their own bank. So, over time if a company keeps rewards in a cryptocurrency, they are more likely to earn more than keeping reward points.
As more than 70% of American consumers are familiar with Bitcoin, using cryptocurrencies in the reward programs could present a marketing opportunity for companies that are willing to innovate in their reward and customer engagement strategies.
Best crypto reward programs to drive user engagement in 2022
Discover which are the main crypto reward programs to increase user engagement and level up your incentive strategies using digital currencies:
1. Crypto cashback rewards
Cashback rewards are a type of loyalty program where customers can earn rewards for shopping with a particular retailer. Many companies have started creating their own crypto coin to offer a more accessible crypto reward program.
These cashback rewards can be in the form of a percentage of a cryptocurrency when the user, for instance, makes a purchase using one of the services that the company offers. An example of this use case can be crypto.com and its "Pay Rewards" service: when purchasing various products (like airtime, for example) under the Pay feature in Crypto.com App, the user is entitled to receive cashback in CRO, their own crypto coin. 
[Looking for incentives and reward API? Connect to Reloadly and access to +800 operators through our airtime & data bundles service, and a catalog of more than 14,000 gift cards worldwide. Contact an expert for a free demo or register in Reloadly]
1. Crypto staking
Staking in crypto rewards is the process of holding cryptocurrency in a wallet to support the operations of a blockchain network. When users stake their coins, they are essentially providing their computing power to validate transactions and secure the network. In return, they earn rewards for their contributions. So those users with just a few coins can earn staking rewards if they work with a cryptocurrency platform to do so.
An example of this can be found in Kraken, a crypto exchange that allows users to earn rewards when they stake cryptocurrencies and fiat for a period of time as an incentive to acquire and hold onto staking assets. Some staking coins may require a bonding period.
3. Credit card rewards
Although many different industries have included cryptocurrencies in their reward programs, credit cards are coming with different kinds of rewards. For example, when a user uses a credit card, they can receive digital assets as rewards or earn cashback, which they will be able to convert to exchange for other benefits later.
4. Travel rewards with crypto
There are a few different types of travel rewards with crypto. Some companies offer discounts on travel expenses when you pay with their cryptocurrency. Others offer rewards points that can be used to book travel or purchase other items. One example is Loyyal, which is a customer loyalty and rewards platform. Loyyal uses blockchain technology and smart contracts to create a loyalty ecosystem that is secure, private, and fraud-resistant.
Some of the companies that are using Loyyal include Emirates Airline, AccorHotels, and the City of Dubai. These companies are using Loyyal to offer rewards to their customers. For example, Emirates Airline is using Loyyal to offer Skywards Miles to its customers.
5. NFTs appreciation rewards
NFTs are non-fungible tokens. They are digital assets that are unique and not interchangeable. NFTs are often used to represent items such as art, collectibles, and virtual worlds.
Companies like ORAI Robotics are starting to use NFTs as employee appreciation rewards. Employees can monetize their NFTs by returning them to the company after a certain period of time.
In conclusion
Cryptocurrencies are changing fast, and they're changing the financial scenario at the same speed. Blockchain technology is one of the best mechanisms for redeeming digital rewards in the form of crypto assets. The ability to issue a desirable reward is crucial for those companies that want to succeed in the new era of digital money.
Although a crypto reward program is not intended to replace traditional loyalty programs, it is starting to be considered as a system facilitator that reduces costs. Being a transparent system, blockchain technology reduces losses from fraud and error which are common in traditional reward strategies.
Cryptocurrencies present risks, but the main argument to choose them and implement them in a reward program is that consumers love to choose. And after the quick adoption of many new technologies in the last few years, they are more willing to try something new.