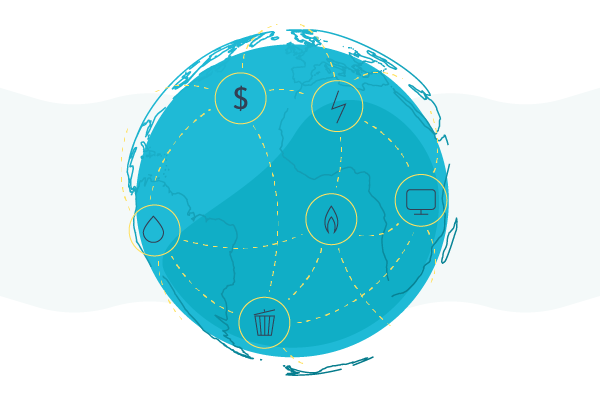 BIll and payment processing is cumbersome for utility service providers and their customers. Bill payment aggregators help plug the gaps.
Bill payment aggregators are unsung superheroes of the digital payments world.
Also known as merchant aggregators, these network providers quietly enable smoother and more convenient digital payments for businesses in a variety of industries, and increasingly across different regions.
In essence, a bill payment aggregator helps businesses eliminate clunky payment processing systems by offering access to multiple payment channels through just a single endpoint.
Bill payment aggregators do not only simplify bill collection for businesses; they also make the customer payment experience more efficient and easier to handle. By disintermediating registration processes with banks, businesses cut out chains of online (and offline) forms and wasted time for all parties involved.
In particular, companies that wish to provide payment gateways to utility service providers, online subscription-based businesses, and e-commerce merchants can save money and time when processing lots of low monthly fees.
In return, customers get the ability to make flexible, convenient, and automated payments for common, recurring monthly services, most popularly:
Utility services such as electricity and water bills
Internet subscriptions
Cable TV subscriptions
The main benefit in aggregating these providers is the ability to offer convenient, flexible payment methods.
When bill payment aggregators enable businesses to simply plug and play, they then integrate directly with hundreds of service providers that allow them to collect and manage payments through multiple channels, including:
Credit cards
Digital banking accounts
POS terminals
Stored-value wallets
Indeed, this convenience of service is increasingly the expected default; not an option.
Flexible digital payment options are now essential for seamless user experiences, according to the 2020 McKinsey Global Payments Report.
Furthermore, data published by Statista projects the global digital payments segment to reach $6.68 trillion in 2021 — a 40% leap since 2019. Businesses that fail to use utility bill aggregators are leaving a lot of money on the table.
The reasons for this can be linked to the rapid increase in mobile phone usage, as well as the preference for contactless payments during the Covid-19 pandemic.
With more regions such as Africa and the Middle East making global online purchases, businesses should also begin to explore bill and utility aggregators API technology.
[Are you working on fintech solutions or looking to help businesses integrate plug-and-play bill and payment aggregators? Reloadly offers a bill and utility payment API, allowing businesses to easily and quickly streamline recurring payment and billing processes.]
How do bill payment aggregators work?
Payment aggregators work through integrations.
Using an Application Programming Interface (API), developers can easily, swiftly, and affordably connect to third-party payment providers.
An aggregator connects three main actors, namely:
The end-user: In this case, the customer paying a bill
The payment recipient: A utility service provider, for instance, can be the payee or receiving party.
The payment facilitator: Usually a mobile money service (such as PayPal, Stripe, Square, credit cards, or banks), a bank or credit card service provider.
Besides the integration of payments systems, bill payment aggregators also offer value-added services.
For example, bill payment aggregators can also enable payment automation, credit tracking, Know Your Customer Features, and other services.
5 benefits of using a bill and utility payment aggregators
Payment aggregators are easy to implement to start processing payments quickly.
The following are five core benefits businesses can get from using bill and utility payment aggregators:
Swift integration: Without payment aggregators, each business would have to go through taxing processes to connect to payment service providers. But with a payment aggregator, businesses can quickly plug into APIs and get started connecting to hundreds of providers within a day.
Payment management ease: Receiving and tracking payments manually can be quite stressful. Payment aggregators, aside from receiving payments, can track and record them efficiently.
Additionally, some payment aggregators offer chatbot functionalities, ensuring that end users can make payments easily. This tool helps to solve some simple user problems.
Payment aggregators can also automate payment collection, management, and dispute resolution processes.
Cost-effectiveness: Payment aggregators cut costs through the whole payment processing cycle. This starts with setting up payment systems, where thousands of dollars would have normally been expended in registration and contractual agreements.
Flexibility: Payment aggregators are flexible. They can be modified and customized to reflect the preferences of the business or the demands of the user.
One of such areas of flexibility is payment options for users. Payment aggregators open up multiple payment options that suit users' preferences available options.
Reduce the burden of regulatory compliance and mitigate security risks: Regulatory compliance and risk mitigation are costly. Companies spend an estimated $180.9 billion annually on meeting risk and compliance measures, according to a survey of 898 decision-makers by LexisNexis.
The cost of non-compliance with financial regulations is even more costly. And firms can spend an estimated 2.71 times more than they would normally have just to stay in compliance with financial regulations.
With payment aggregators, the burden and costs of compliance with regulatory requirements is lifted.
These five benefits are reason enough for more businesses to increasingly adopt bill payment aggregators, which are becoming especially ideal for utility service providers.
Bill and Utility APIs: Building innovative payment solutions
Paying for utility bills is a hassle, and as with most pay-as-you-go services, getting interrupted while using any of the utilities is unpleasant.
Utility service providers looking to provide better customer experiences are therefore increasingly willing to work with bill payment aggregators to make their customers' lives better.
With mobile phones now ubiquitous and digital payments becoming easier, utility service providers can now easily facilitate automated and one-click payments.
On the other end, businesses crave new fintech solutions, namely the utility APIs that can connect to countless utility and services providers, track usage, and collect billings.
When a business pivots to a digital payments system, this opens up an opportunity for developers, who can now utilize bill and utility APIs to provide fintech solutions for both utility providers and fintech-focused businesses.
Developers don't need to create these applications from scratch. In fact, they can get started by plugging directly into Reloadly's contract-free bill payment and utility API.
With Reloadly's bill and utility API, businesses can start processing payments for water, electricity, internet, and TV services through websites or mobile applications.
Asides from receiving payments, transactions, and pricing across different payment services providers can also be transparently and easily managed through a dashboard.
Utility service providers that businesses can use Reloadly's API for include:
Electricity bills
Until recent times, electricity bills had to be paid in person after hours in queues. That meant stress, wasted time, and hours being cut short of power supply. With mobile phones, however, the status quo has changed. Customers prefer to pay with their mobile phones to ensure that power never gets interrupted.
Water bills
Water is an indispensable utility, and users like to ensure their water services never go off. Reloadly's utility and bill API can ensure that users can make payments via mobile applications and keep the water flowing.
Internet broadband bills
Today, the internet can be used to pay for a broadband subscription via the internet itself. The Reloadly API enables companies offering internet subscription services to customers to receive payments via multiple means, but through one channel.
TV bills
TV subscription bills have become one of the most common recurring expenses in emerging markets. With multiple tiered-pricing options to choose from, businesses must be able to ensure users can pay easily and with transparency. Using Reloadly's API, end users can now pay promptly and without any doubt.
Final Thoughts
Reloadly has launched a plug-and-play bill and utility API that was built to change the game.
With no-contract accounts and numerous payment service providers onboarded, fintech solutions providers can help utility services to start receiving payments from across the world in less than 5 seconds.
For more information about the current utility and service providers in our network, please contact the Reloadly support team, or add your name to the waiting list to be among the first that we contact when the service is launched.