Mobile Top-Up API Company Attracts Big Names in the Telecommunications Industry
Reloadly Inc, the world's first prepaid phone recharge API, announced that they have confirmed direct agreements with over 20 major operators across Africa and Latin America. Movistar, Tigo, Airtel and Orange are just a few of the major mobile operators who have chosen to work with Reloadly, a fast-growing B2B tech start-up that allows developers to easily connect to airtime and data bundles for over 800 operators globally. 
There are currently over 4.5 billion prepaid mobile users in the world, and this is expected to increase by an additional 590 million in the next seven years. The majority of these prepaid mobile users are located in emerging countries, and the problem that they face is that airtime is extremely expensive. For this reason, over 30% of these mobile subscribers are disconnected at any given time due to lack of credit. Reloadly's direct connections with these mobile operators makes it easier for innovators and developers to solve this connectivity problem by exploring new digital channels and use cases. 
Reloadly's co-founders Michel Francis and Emmanuel Piard both grew up in Miami, Florida but are originally from Haiti, where 99% of mobile subscribers have prepaid phones with archaic, brick-and-mortar systems to recharge phone credit. Frustrated by how complicated and laborious it was to send mobile airtime to loved ones back in Haiti, Michel and Emmanuel created Reloadly as an opportunity to build a developer-friendly platform that applies API technology to an antiquated system of mobile operators to boost cellular connectivity worldwide.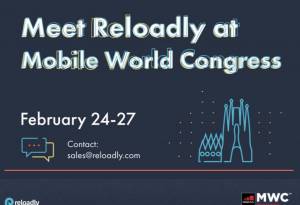 Reloadly's mission is to provide simple technology to developers around the world that will give them direct access to better rates with global telecommunications operators. Without Reloadly, it would be impossible for a developer to build an app that allows mobile recharges around the world. "Our goal is to improve connectivity, especially in developing countries in Africa, Asia and Latin America," said CEO Michel Francis, who will be available for meetings and interviews at the Mobile World Congress in Barcelona, Spain. 
To earn the trust of these powerhouse mobile operators, Reloadly focused on two major values: providing developer-friendly tools and being as transparent as possible. Reloadly's API is free to use and makes integrating simple and fast. Reloadly manages the connections to operators and this allows developers to easily access any carrier around the world. Regarding transparency, Reloadly shows its pricing directly on its website in order to gain trust and they are committed to a no-surprises policy.
Of the company's recent major partnerships, Reloadly CEO Michel Francis said, "Finalizing these connections has been our greatest achievement so far because that gives us local and direct access to over 50 countries. For me, it shows that APIs can and are disrupting the telecom industry because we open up the ecosystem to more users who can get access to top up their phones via new digital channels both locally and internationally. We're very excited for what the future holds."
About Reloadly: Reloadly Inc. is a B2B telecom start-up based in Barcelona, Spain with offices in Miami and New York. Founded in 2018, Reloadly was the first mobile top-up API and connects over 800 operators in over 120 countries worldwide. Reloadly is backed by investors in both Spain and the US, including Wayra, Draper B1 Ventures, The Venture City and Nero Ventures. To get started, simply create your free account here.