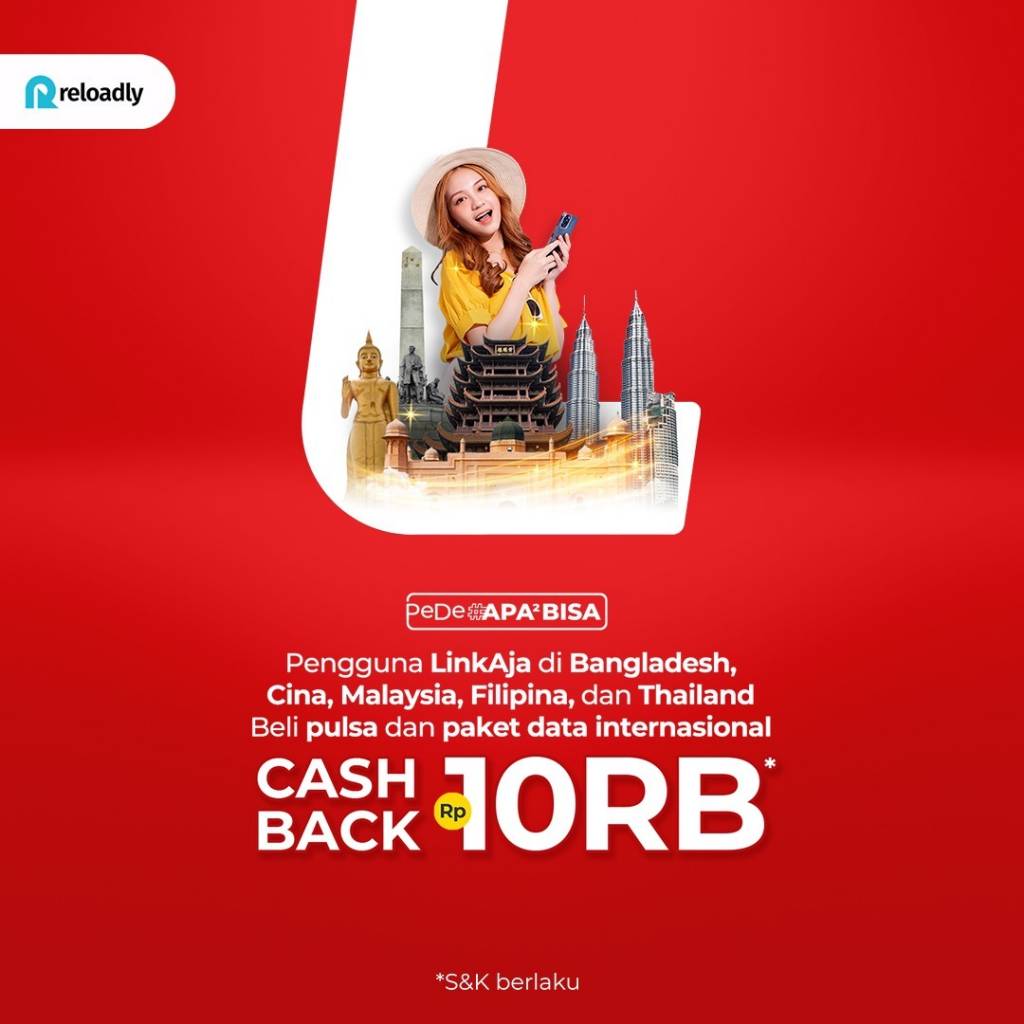 Reloadly partners with LinkAja – the biggest Indonesian super app – to expand global airtime top-up to millions of Indonesian.
Around 89 million of their consumers can now top-up airtime worldwide in the more than 170 countries where Reloadly has coverage.
This new reach of LinkAja's top-up services will further the company's importance and growth within the region.
The partnership is also an important stepping stone in Reloadly's growing international presence
As a reference About LinkAja :
LinkAja has 89 million registered users, 2.8 million registered merchants.
Due to LinkAja's business pivot to a two-sided business model, LinkAja successfully increases its revenue and decreases its operating expenses.
Barcelona, Spain; Jan 15th, 2023
Reloadly has arrived in Indonesia by the hand of Linkaja. Both companies are excited to start this new partnership that expands to the Indonesian market the opportunity to access a Top-up and Data Bundle service, all of it through Reloadly's well developed and open source API system. With it, LinkAja's mission is to transform the lives of their customers in Asia by accelerating the deployment of high-speed data networks and reducing the digital gap.
LinkAja is a digital financial service with over 89 million registered users, which represents more than the 27% of the Indonesian population according to official demographic data. It is provided by Indonesia's Telkomsel and is also a member of State-Owned Enterprises (BUMN). Its app is one of the most successful all around Indonesia, as it keeps growing its range of services to help their users even more.
This new partnership is a further expansion of their business. LinkAja's customers used to be able to top-up only inside Indonesia, but now, thanks to Reloadly, they can do so internationally. This will make life easier for many Indonesians who have family or business ties outside their country, further cementing LinkAja's economic growth within the region. LinkAja's new and attractive international reach will be an enticing feature that will attract more customers to their service. This also makes LinkAja become the first digital wallet in Indonesia that provides International air-time and data.
M. Rendi Nugraha, CMO of LinkAja, responded "We are delighted with this strategic collaboration as part of our commitment to build collaborations and become a digital financial service platform that serves society's. With our strong ecosystem, we believe this new feature will add value to our existing and potential users. Collaboration with Reloady complements LinkAja's capabilities and provides easy transactions access to fulfill essential daily needs."
Michel Francis, CEO of Reloady, has commented that the company "is a startup with global ambitions that enables users of our airtime software toolset to easily integrate with platforms and apps like LinkAja." He further added that "the vast majority of the world – around 78% – still relies on prepaid plans. Our mission is to reinvent and break down barriers in the global telecommunications industry, empowering developers and brands to drive mobile access in markets around the world, most of which have been underserved for far too long."
Reloadly's partnership with LinkAja is an important step into tapping the full potential that cellphones have introduced to both global and national economies. For example, research done by Statista estimates that by 2026, Indonesia will have 239 million mobile phone users. Partnerships of this kind make it easier than ever to create, customize and integrate airtime services for creative and innovative new lines of business.
LinkAja is the flagship product of PT Fintek Karya Nusantara (Finarya), as an inception between 10 State-Owned Enterprises (SOEs) and two largest regional Decacorns in SEA. LinkAja launched its Sharia-compliant wallet in 2020 as the first Sharia e-wallet in Indonesia. LinkAja has been registered in the Bank Indonesia as an electronic money issuer and digital financial services provider with a legal entity. With the support of Telkomsel, Indonesia's largest mobile operator, and the extensive network of the State-owned Bank Association (Himbara), with more than hundreds of thousands of financial transaction access points, LinkAja's existence as a payment system platform for SoEs products help to drive a holistic ecosystem of cashless financial transactions and financial inclusion in Indonesia by focusing the necessary payment needs of all Indonesians.
Reloadly provides simple, intuitive, and flexible APIs to send airtime, data bundles, digital gift cards, and bill payments worldwide. It is the world's first developer platform for connecting to global telcos, and it provides better building blocks for integrating digital mobile payments. Reloadly has built several open source solutions for the developer community, taking the complexity out of integrating with telcos. With a transparent system and direct connection to +800 operators worldwide, Reloadly offers a "pay as you go" platform with plug-and-play technology. It is also the only company in the industry that provides its SDKs for free.